Let it Flow
The ASUS EKWB GeForce RTX™ 3090 cards are the result of collaborative engineering efforts between ASUS and EK®. ASUS Auto-Extreme Technology, along with a metal backplate and customized steel mounting bracket, create a durable foundation for EK®'s full-coverage water block. The entire package takes up just a single slot, bringing the tangible benefits of water cooling to small form factor builds, heavyweight workstations, and showcase rigs.
Auto-Extreme Technology
Precision automated manufacturing
Auto-Extreme Technology is an automated manufacturing process that sets new standards in the industry by allowing all soldering to be completed in a single pass. This reduces thermal strain on components and avoids the use of harsh cleaning chemicals, resulting in less environmental impact, lower manufacturing power consumption, and a more reliable product overall.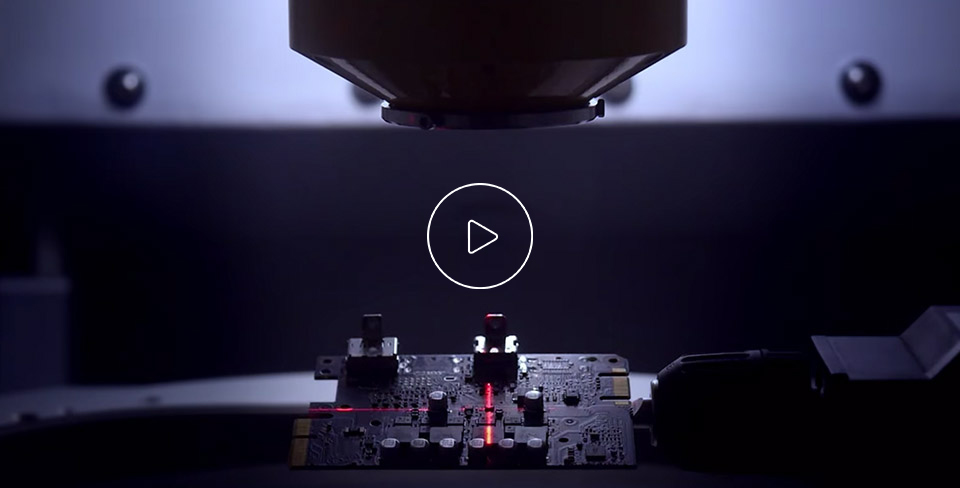 Protective Backplate
The PCB is reinforced by an aluminum backplate that adds structural rigidity, helping to prevent flex and protect components and trace pathways from damage.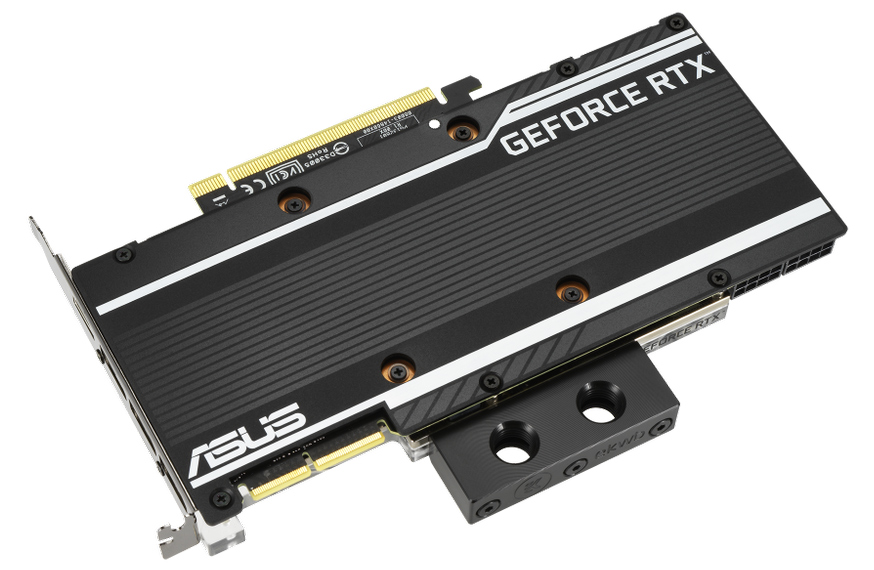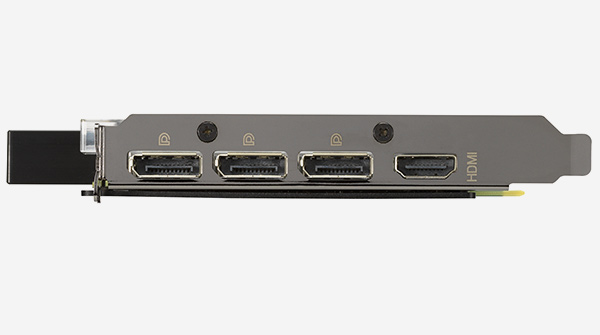 Stainless Steel Bracket
The mounting bracket of the ASUS EKWB has been beefed up with 304 Stainless Steel that's harder and more resistant to corrosion.
High-performance Water Block
A central inlet split-flow cooling engine designed by EK® channels coolant over the GPU and other key components without restricting flow. The design efficiently dispatches large thermal loads and saves prized slot space.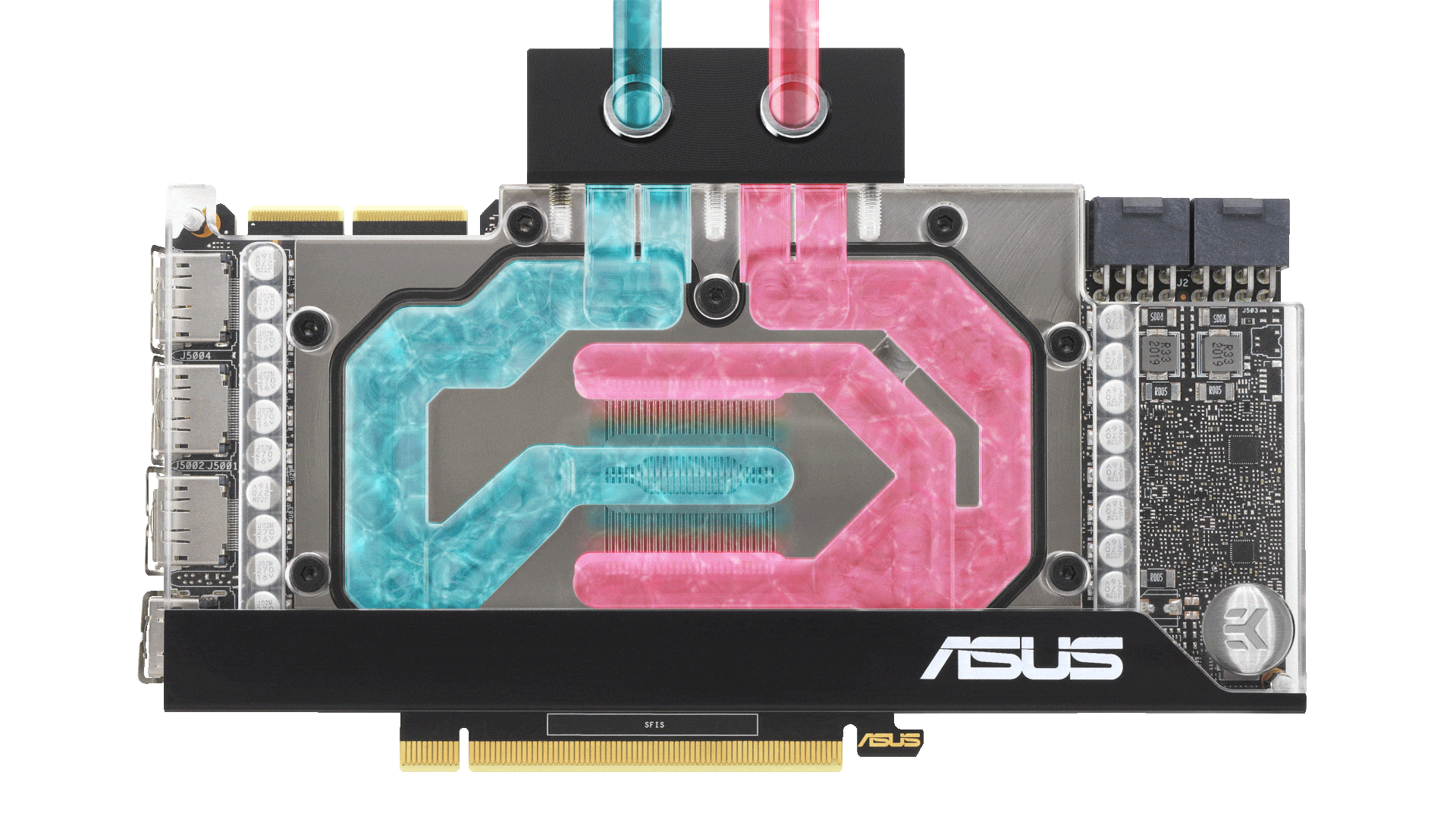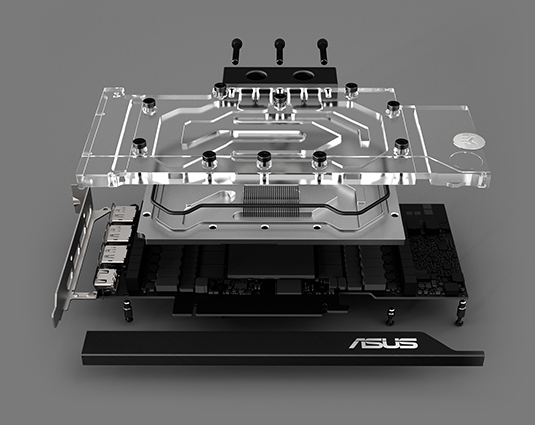 Remarkable Construction
A nickel-plated copper cold plate prevents oxidation and ensures efficient heat transfer. On top, the cast acrylic cover makes a spectacle of coolant as it courses over the GPU and other components. High-quality EPDM O-rings and brass standoffs are arranged throughout to ensure proper sealing and an easy installation.
Aura Sync
The ASUS EKWB graphics card features an addressable RGB strip that spans the length of the block. Armoury Crate software allows complete control and customization of the lighting colors and effects. Build with other Aura Sync components to enable uniform lighting across your entire setup.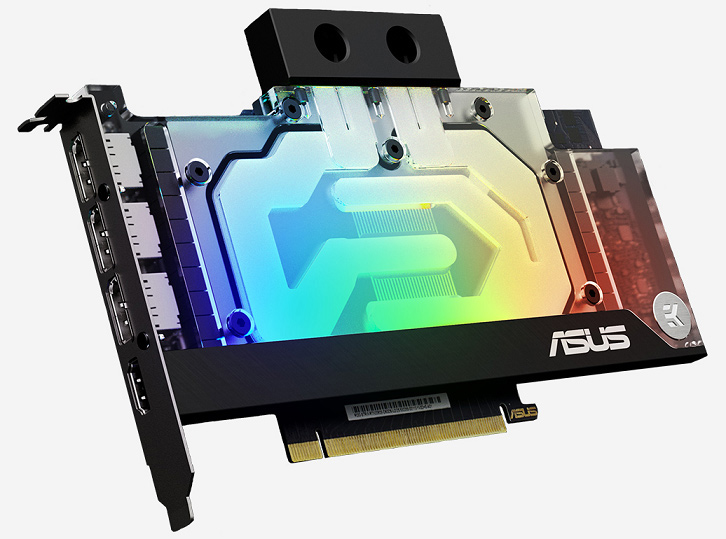 Single-slot Design
A compact single-slot design increases compatibility with other PCIe peripherals and even allows multiple ASUS EKWB cards to be stacked in a system.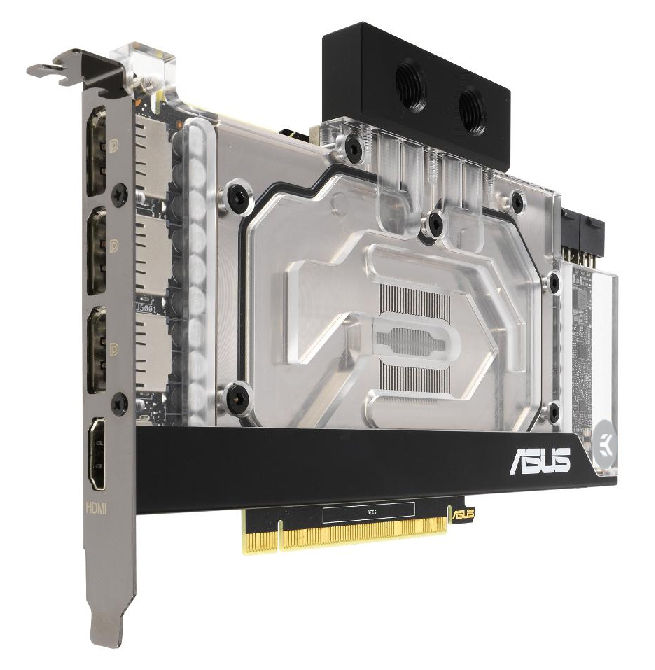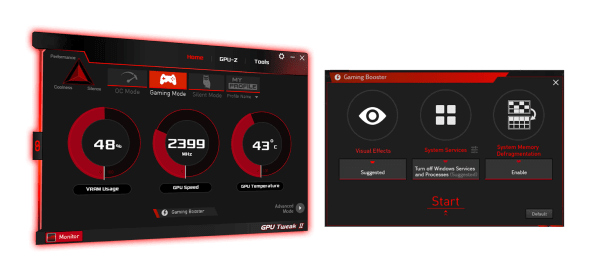 Software
GPU Tweak II
The ASUS GPU Tweak II utility takes graphics card tuning to the next level. It allows you to tweak critical parameters including GPU core clocks, memory frequency, and voltage settings, with the option to monitor everything in real-time through a customizable on-screen display. Advanced fan control is also included along with many more features to help you get the most out of your graphics card.